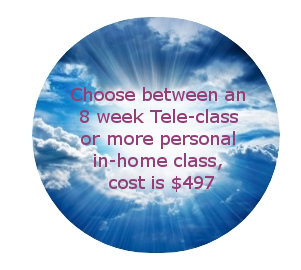 HAVE YOU BEEN ON THE SPIRITUAL PATH FOR A WHILE NOW AND FIND YOUR HEART WANTING MORE THAN "CHANGE YOUR THINKING, CHANGE YOUR LIFE"?
YOU LOVE LEARNING THAT YOU ARE ONE WITH THE INFINITE, BUT WHAT DOES THAT REALLY MEAN?
ARE YOU CURIOUS ABOUT THE VIOLET FLAME AND HOW TO USE IT?
WHO ARE THE ASCENDED MASTERS ANYWAY AND WHAT DO THEY HAVE TO DO WITH ME?
DO YOU HAVE A SENSE OF LONGING TO GO HOME AND WONDER HOW YOU FIT INTO THE WHOLE SCHEME OF GOD?
YOU ARE A MYSTIC AND THAT CALLING IN YOUR BELLY FOR MORE … IS REAL.
THAT'S WHY I CREATED THE COMPANY OF HEAVEN AND YOU! A PRACTICAL FOUNDATIONAL CLASS ON THE HIERARCHY OF HEAVEN AND YOUR PLACE IN IT.
In this class you will not only learn how to cooperate with the Divine, you will start to feel so grounded in your life that you'll know you're connected to what you came here to do and feel empowered to do so. You'll start to feel completely supported and loved from the inside out.
 As you learn about the Company of Heaven you will fully realize they are in love with you, just as you are.
 As you align with the Hierarchy of Heaven your life not only becomes

easier,

but filled with Freedom and Fulfillment.
In this 5 week class you will:
Learn about and become intimate with your Divine Self

Meet the Ascended Masters, the Archangels & the Elohim, and begin having a relationship with them

Learn more about, the Violet Flame and how to use it in your everyday life

Deepen in your spiritual practice and connection to the Divine through active meditation
As a part of your tuition you will receive a bonus Mystical Journey Session with Jennifer (a $200 value).
Each class will be recorded, so that you can keep the deep meditations from this class to use over and over again.  And you will.
 You will also be purchasing your own text book,  21 Essential Lessons Volume I by Werner Schroeder.
You presented the material with great reverence and passion. you bring life to the work, make the teachings real and immediate. i will be part of the next class and look forward to it.

Peter Ross
Oh Wise One! This class has been brilliant. I've loved every part of it!.

Jessica Colp
Life Coach
"I have shifted in a way this this class that has been extremely miraculous. The reverence I feel and the ability to commune with the Masters and the Realm of the Spirit has been astonishing. Thank you."

Alison Ponsetti
Denver, Colorado
The class has been beautiful and I am going to miss it deeply. You guide the most wonderful meditations and those Monday nights I had the most blissful dreams and restful sleep. I felt profoundly connected to the teachings you introduced, which are now part of my daily life…I have now a much deeper and strong connection with my beloved I AM Presence.

Alejandra Hein